A Letter from Our President
no-repeat;center top;;
auto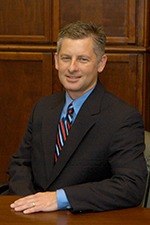 Acadian Ambulance has been committed to providing customers with services that exceed expectations and industry requirements. These decades of strong communication and emergency response led to the creation of Acadian Total Security, which offers a diverse array of security services to fit every lifestyle and enhance the quality of life through cutting-edge technology.
In the early '90s, Acadian On Call was created as we transitioned into telemedicine with our advanced technology, communication center and experienced dispatchers. The personal emergency response system was new to the industry and fulfilled a vital need for the growing elderly population and those who lacked mobility. Acadian Ambulance's history and paramedic training facilities make us uniquely qualified in the medical alert industry. We maintain a close partnership with local fire and security companies, along with our diverse staff of certified dispatchers.
There are lots of companies who sell medical alarms, but only Acadian has the technology, training and experience you can trust. We monitor our personal emergency response systems, ensuring a commitment to excellence and the well-being of all users. Acadian operates one of the only state-of-the-art medical monitoring centers in the nation. Our monitoring center is staffed with Emergency Medical Dispatch-certified EMTs and paramedics. Our medical monitoring dispatchers receive training that meets and exceeds criteria set forth by the Association of EMS Physicians and our medical team uses progressive ProQA protocols to quickly and accurately assess the situation and provide advanced pre-arrival instructions.
Through our security division, we monitor almost 50 percent of the home and business alarm systems in our home state of Louisiana. We monitor and partner with more than 550 security companies across the nation, and our stellar team responds to more than 4 million alarms per year. Thanks to our monitoring division, Acadian Monitoring Services, we protect assets valued at more than $75 billion from our three UL-listed, bi-directionally redundant central stations in Louisiana and Chicago 24 hours a day, seven days a week.
This tremendous growth can be attributed to you, our dedicated customers.  On behalf of our hardworking staff, I'd like to thank you for the trust you have placed in Acadian On Call.
Contact us today if you are interested in how Acadian On Call can help you and your family.
Sincerely,
Blane Comeaux,
President of Acadian Total Security and Acadian On Call
no-repeat;center top;;
auto