Waterproof Help Buttons
The Waterproof help button is the key to your Emergency in Home Alert System by Acadian-On-Call, leaders in the Medical Alert Systems for over 40 Years. Included with your Medical Alert System, the waterproof Help Button comes in the style of your choice, bracelet or necklace. You choose the waterproof Help Button that is most comfortable. The emergency Waterproof Help Button is your instant link to your Emergency Alert System Console that gives you instant access to two-way communication to one of our three award winning National Emergency Call Centers.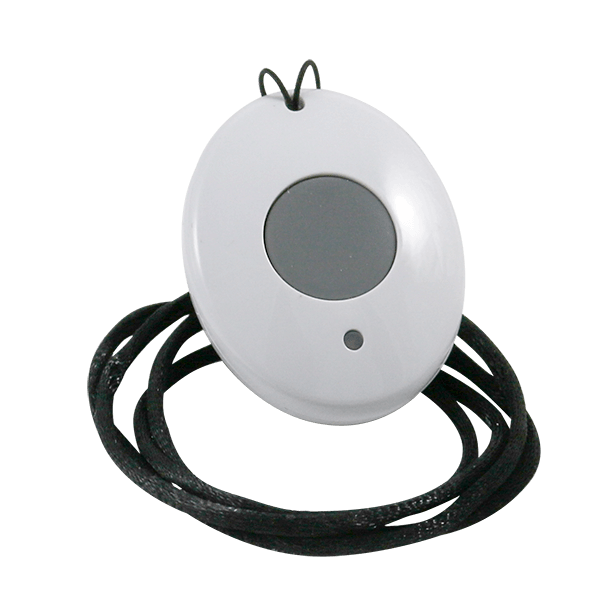 Your emergency Help Button has a radio signal range of up to two football fields (600 Feet) in any direction from your Medical Alert System Console. Your Emergency Assistance Help Button coverage will give you an instant link to the two-way communications throughout your home, garage and yard within 600 feet. Your Emergency Medical Help Button is totally waterproof and designed to be worn in the tub or shower.
When there is more than one person in the home, you can use more than one Medical Help Button with your Medical Help System Console. Each Medical Help Button assigned to your two-way communication console will instantly call for assistance when pushed. No matter where you are in your home, Your Medical Assistance Help Button can connect you to a Certified Emergency Medical Dispatcher at one of our Nationally Acclaimed Call Centers. If you are living alone add a layer of security to your personal wellbeing and safety with the 24/7 protection of a Medical Assistance Help Button and Console from Acadian On Call, your instant link to Emergency Response.
For caregivers and children of Elderly Residents, the Emergency Medical Assistance Button will bring you peace of mind. Seniors and disabled living alone will always have instant access to Certified Emergency Medical Response when you order an Acadian On Call Emergency Medical Alert System with an easy push Medical Alert Button. You can feel safe no matter where they are in their house, knowing that they have the extra layer of safety and security provided by The Waterproof Medical Response Button.
Order the complete Emergency in Home Alert System by Acadian-On-Call without a long-term commitment. Acadian-On-Call is not looking to bind you to a long-term contract, if fact we don't have a long-term contract. The entire Medical Alert system, console and Help Button, comes with a FREE full replacement warranty to keep you or someone you care for, safe and secure at home.